Strengthening bonds for operational excellence: 35th Infantry Division hosts 2023 Readiness Symposium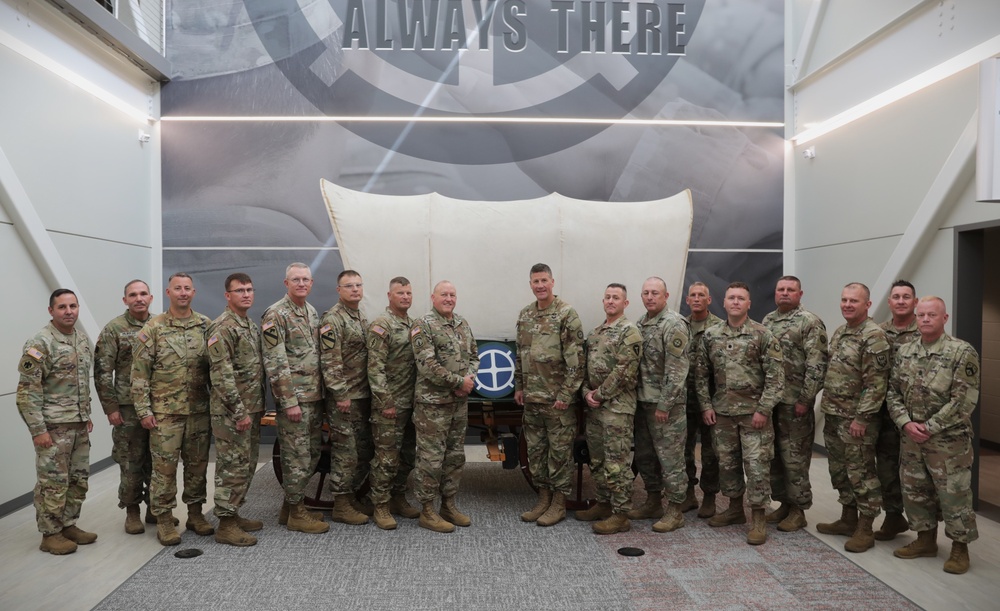 LEAVENWORTH, Kan. – The 35th Infantry Division hosted the first annual Division Readiness Symposium, welcoming a diverse array of Army National Guard units from across several states to the division headquarters in Leavenworth, Kansas. Held Sept. 9-10, the event aimed to foster enhanced communication and shared understanding among the participants ensuring operational, exercise, and deployment readiness.
To better prepare for possible future large scale combat operations amidst current global threats, the Army National Guard recently realigned its units. This change – which brought brigade combat teams and additional units under the eight National Guard division headquarters in Kansas, California, Indiana, Minnesota, New York, Pennsylvania, Texas and Virginia – increases overall capabilities and fighting forces.
The 35th Infantry Division's newly aligned units include the 39th Infantry Brigade Combat Team of the Arkansas National Guard, the 45th IBCT of the Oklahoma National Guard, the 72nd IBCT of the Texas National Guard, the 230th Sustainment Brigade of the Tennessee National Guard, the 35th Infantry Division Artillery of the Kansas National Guard, and the 35th Expeditionary Combat Aviation Brigade and the 110th Maneuver Enhancement Brigade, both of the Missouri National Guard. With participating representatives from all seven newly aligned units under the 35th Inf. Div., this year's readiness symposium brought together a great deal of military expertise under one roof.
"From a mission command table perspective, one of the first thing you do is build the team," said Maj. Gen. John Rueger, commanding general of the 35th Inf. Div. "We aimed to come out of this with a shared understanding of our roadmap forward, and what we are doing in order to continue to build and prioritize readiness over time."
Throughout the two-day event, participants engaged in open discussions, sharing insights, best practices, and lessons learned. The symposium served as a platform to align strategies, identify potential challenges, and develop a unified approach to achieving and maintaining the highest levels of readiness together.
As part of the event, the 35th Inf. Div. command group, members of the 35th Inf. Div. staff, and all aligned brigade command teams facilitated open and constructive dialogues on a wide variety of topics, such as current and future operations, aligning unit training plans, ways to enhance division and brigade interoperability, and even knowledge management.
"It was a great opportunity to see people I have known and worked with for 10-15 years," said Col. Andrew Ballenger, commander of the 45th Infantry Brigade Combat Team, Oklahoma Army National Guard. "All the synchronization and finding new ways to do things, particularly in the knowledge management realm, will help our own team streamline how we operate moving forward."
"We are getting ahead of where the Guard wants us to be, a division synchronized and in tune with its aligned units," said Brig. Gen. Nicholas Jaskolski, deputy commanding general of sustainment, 35th Inf. Div. "As we continue to foster our relationships with each of our units after this symposium, we know we are continuing to make headway and are better posturing ourselves to move forward as one cohesive team."
Increased communication and shared understanding were paramount for all involved in this year's symposium for operational, exercise, and deployment readiness. Toward the end of open discussion session, leaders shared what they hoped to see in future symposiums to come.
"Synchronization moving forward is going to be critical in remaining united under this new alignment," said Col. Andrew Ballenger. "My team is grateful we were able to come together in person and put faces to names, and certainly look forward to continuing the communication even back at our home units."
This year's gathering of military units was a platform for building stronger connections, sharing knowledge, and enhancing readiness. The commitment of all aligned units to work together demonstrates the Army National Guard's dedication to serving the nation with the highest levels of readiness and preparedness. This annual event is likely to become a critical part in the division's ongoing efforts to achieve operational excellence.
"We want to ensure we are prioritizing the building of relationships, and that we are all moving the same direction and understanding the challenges we may face," said Rueger. "When it comes time to face those challenges, we will do so together."
| | |
| --- | --- |
| Date Taken: | 09.09.2023 |
| Date Posted: | 09.19.2023 09:16 |
| Story ID: | 453734 |
| Location: | LEAVENWORTH, KS, US  |
---
| | |
| --- | --- |
| Web Views: | 4 |
| Downloads: | 0 |
---

PUBLIC DOMAIN  


This work, Strengthening bonds for operational excellence: 35th Infantry Division hosts 2023 Readiness Symposium, by SGT Evan Anderson, identified by DVIDS, must comply with the restrictions shown on https://www.dvidshub.net/about/copyright.